Beautiful Tile Flooring in Bethlehem, PA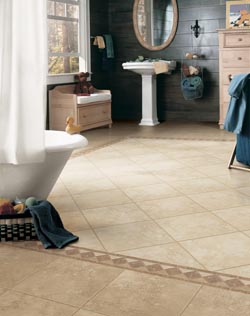 Does your home need a new floor that fits its design, is easy to maintain, and won't need to be replaced for a long time? Bethlehem Gallery of Floors has you covered with beautiful tile flooring in Bethlehem, PA. With high-quality brands and a wide selection of porcelain, slate, and vinyl tile, there's no style or décor that we can't match. Feel free to bring in your vision, design plan, and any samples you have, and we'll help you find the right choice for each room. From selection to installation, our professional flooring experts, designers, and installers are here to help.

We believe that home improvement shouldn't break the bank, and no one should have to compromise quality just to stay within their budget. Our store has an extensive network of locally owned flooring stores and combines that with impactful buying power to offer you some of the lowest prices on high-quality tile flooring. Stop by our local store today and see what a new tile floor can do for you. We back our products with fade, stain, and wear warranties that can last up to 25 years, so you're making a safe investment when you choose us.
The Benefits of Tile
Besides its elegant beauty, there are a lot of advantages to tile flooring. Tile is strong enough to last for years if it's well maintained, and keeping it well maintained is easy. Floor tiles withstand moisture, fire, frost, stains, scratches, and slips. The hard surface is especially good for pets, as it can stand up to sharp toenails and allows for easy accident cleanup. It's also one of the best flooring types for resisting water, making it a popular option for kitchens and bathrooms. Tile even resists bacteria, germs, mold, and dust mites. Wherever you put it, tile has so many different varieties and types that you're sure to find the perfect fit for your home, your family, and your budget.

Tile is not only good for families and pets, but also for the planet. Tile does not release a single volatile organic compound, making for cleaner indoor air, and it is made from recycled material.

Vinyl Tile is a traditional favorite with a classic feel, one that's been used in homes for hundreds of years and continues to be a popular choice. In this day and age, it has a design that's flexible enough to go into any room. Whether you've got carpet or wood in your home, this product complements your décor beautifully. Our tiles are made of material that lasts and allows homeowners to get creative with their styles, so you get the floor that delivers in appearance, performance, and price.

Not only does porcelain tile do well in high traffic and resist allergens and bacteria, it's also one of the most versatile types of flooring. There's no limit to the number of trim pieces and accents that you can use to customize your porcelain, and it can go in both formal and informal settings. We can even make it have the look of marble, natural stone, or travertine, so you get a rich look for a light price.

If you've got children, pets, or just have a habit of getting water on the floor, our slate tile is another excellent choice. Slate is one of the most durable and strongest materials in flooring, and completely waterproof. It's perfect for bathrooms, kitchens, and pool areas, allowing you to never have to worry about spills again.
Professional Tile Flooring Installation Lasts
When you want your floors to have a long-lasting look and lifespan, choose our professional tile flooring installation services. Our exceptional customer service doesn't end when you've bought your flooring, we stick with it until your new floors are laid and ready. Every completed installation job is backed by our Ultimate Confidence Guarantee, so any time there is an installation-related issue with your floor, we repair it free of charge.

Tile installation allows for quite a bit of creativity that goes far beyond a basic square grid. We can install tile in beautiful patterns like brick and checkerboard. These popular designs add a new subway or retro look that is unlike any other. You can also get creative with a tile border. Tile borders are easy to make and let you add a unique touch to your design to truly make it yours. Plus, the simplicity of tile installation makes changing up the design easy, so your floor can keep evolving along with your aesthetic preferences.

Ready to begin your tile flooring project? Contact us today, or visit our showroom!