Vinyl Flooring in Bethlehem, PA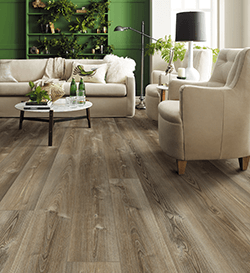 Choosing the right flooring for particular rooms in your house is always difficult. With so many products and brands to choose from, picking the perfect flooring style is a decision best made while consulting our professionals. At Bethlehem Gallery of Floors, we will help identify the colors and textures you need to bring your design plan to life. When you walk through our doors, you will see our extensive assortment of vinyl flooring in Bethlehem, PA.
Our team will speak with you to discover what area of the home you are renovating, the activity throughout your home, and the lifestyle you lead. At Bethlehem Gallery of Floors, we carry a wide range of vinyl tile flooring from some of the most trusted names in the business. With smarter installation options and competitive pricing, you can cover more than you ever thought possible.
The Right Flooring that Works
Each room in your house has its challenges and dilemmas. For instance, your kitchen and bathroom need flooring that will stand up to moisture, whereas a comforting, warm flooring would work better in your bedroom and living room. Our vinyl plank flooring are designed to resemble real wood flooring, but at a fraction of the cost. And, unlike real hardwood, vinyl flooring can be used freely in any room of the home, without worry of excess moisture ruining it.
Furthermore, vinyl flooring is resistant to damage, standing up to wear and tear that might otherwise scratch, dent, or stuff. It's also a breeze to clean, as it is non-porous, enabling you to clean up spills quickly with a cloth. To keep it looking like-new, simply sweep or vacuum it, then run a lightly damp mop over the surface.
Choose From Many Colors and Designs
Our vast options give you a floor that is easier to clean and maintain, making a big difference for anyone in your home with allergies. With our extensive vinyl sheet flooring showroom, we offer a vast arrangement of choices from many of the top manufacturers. Find a number of different styles and colors you need to bring your space to life. Additionally, we offer detailed design assistance to our clients, ensuring they get a floor they can feel confident in for years to come.
Update your residential flooring today with our vinyl tile flooring. Moreover, we offer our vinyl flooring installation services for any new flooring purchase. We back the work we do and the products we sell with reliable warranties and guarantees.

Contact us today for detailed design assistance and great pricing on the vinyl flooring you need. We proudly serve customers in Bethlehem, PA, Allentown, Easton, Hellertown, and Palmer Township, PA, as well as the surrounding areas.